Celebrating Saint John's Day at the Boettcher Farm
About 120 participants attended the St John's (Sat. June 30) farm tour and potluck at the farm of Chris and Gabi Boettcher and family, near Brussels in Huron County. The main farm operations, which are spread over 700 arable acres, include grain growing, a flock of sheep, a milking herd of goats (and milk parlour), and vegetable growing.
Before the potluck, two hay wagons were loaded with interested friends, young and old, including some area farmers as well as attenders from the regular membership. The wagon tour then stopped at various locations where we could see portions of the farm and listen to commentary by Chris and Erik Boettcher.
Passing by the orchard where laying hens moved in and out of the apple trees, our first stop was at a field of Winter Wheat. The particular wheat used is from a unique Biodynamic pedigree stock from Germany, and is regarded as a choice quality for taste, baking, and disease resistance. As a preventative, the field is sprayed with BD 501 (Silica Prep) and BD 508 (Equisetum) a total of five times from winter to harvest time, since wheat is susceptible to "dwarf bunt," "snow mold," and other fungal pressures.
A nearby field was growing soy beans, sown with 15-inch row spacing, and had had only one pass-through of cultivation for weed management at the time when the soys were at the first trifoliate growth stage. BD 500 (Horn Manure) had been sprayed on this acreage at seeding time and at first cultivation.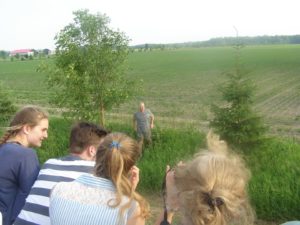 We went next to a rye field. Secondarily, it was nursing a nine-way forage mix undergrowth that would fully develop after the rye harvest, to supply pasture and hay. Along the way we passed, or could view more distantly, various vegetables, such as: 4 1/2 acres of potatoes; an experimental variety of Saskatchewan Pinto Beans (bred for flavour); and about three acres of beetroots. In contrast to "flat planting," a "rich hill" system of seeding is being experimentally tried for the beets (a continuous hill which is mounded up further after the plants get established).
Another field displayed Winter Barley, grown for feed and about a week away from harvest. This was also underseeded with a 14-species hay mix. It will be sprayed twice with BD 500 and once with BD 501.
The tour concluded with about 200 goats expectantly regarding the two hay wagons carrying humans. Each day these goats get a fresh strip of pasture, which is controlled by relocating a movable electric fence. In summer, the goats may need to be kept under shelter if the weather is too hot. A milking parlour had been built for the goats. It efficiently handles 19 milkers on each side, so that the milking session requires only about one hour. A cheese-marketing line is hoped for in future, to be developed based on this dairy.
At the potluck supper, everyone gathered in the shade at picnic tables beside the house for a singing grace, followed by sumptuous food, including samplings of types of farm-made goat cheese. The evening was nicely rounded out after supper, as many stayed to sit or sing in a large circle around a twenty-foot high bonfire in the front field.