Update on Whole Circle Farm
Hello friends of Whole Circle Farm!
So much has happened on the farm since we last sent an update. The winter frost thawed, spring sprung and summer is now here! We spent the later part of the winter de-cluttering, cleaning and organizing many areas of the farm. This is an on-going process – there's always somewhere else on the farm that needs a little TLC. It has felt so good; we feel lighter! In other news, a wind storm took off with one of our high tunnels and the roof of our greenhouse. This was very unfortunate but, luckily, no one was hurt and we've gotten it all cleaned up. Many a calf has been born. And, garlic scapes, raspberries and black currants are around the corner. The cows are out on pasture and thriving. Johann has been trying out some intensive grazing techniques and is seeing great results in the pastures. We have planted a small garden, put some seed crops in the ground and are making sure the chickens don't get up to too much mischief. =)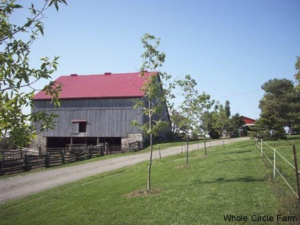 Over the past few months, the landowners have been going through the steps to put the farm up for sale. There've been appraisals and surveys and viewings and the like. We had mixed feelings about the whole thing – on the one hand, we trust the right path will always open up for us but, on the other, we are deeply attached to this land, so there was also a lot of sadness.
Then, to our great joy, some good friends of Whole Circle Farm decided to take action. A committee of former employees, CSA members and friends was formed. This committee is working on fundraising and organizing to purchase the farm from the landowners, to keep the land in small-scale, ecological agriculture. Currently, there are several models being considered – co-ops, condos, land trusts, and more. There's lots to consider and the timeline is tight and, though our future is uncertain, we feel hopeful.
We are so grateful for the work of this group. Our greatest desire would be for this land to be farmed ecologically into perpetuity. And, this group is working on just that. If you (or anyone you know!) are interested in preserving farmland, have a special connection to this land, have any interest in weighing in on the options or putting a bit of effort into this cause, please send an email to Ali English (ali@efao.ca).
Thanks for reading and we hope to see you in the Farm Store soon!
Please continue to support local farms and enjoy your veggies!
With love from,
~ Maggie & Johann