Hack Farm Prep Digging Day Friday May 19th
You are invited to join us join us in digging up preparations at the farm of Uli and Martha Hack. This is a family day.
When: Friday May 19th, 2017
Time: 8:30 am – 4:00 pm
Where: The Hack Farm, 1017 Concession 7, Armow (Kincardine), ON
Phone: 519-396-8090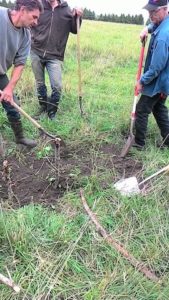 Please come dressed for a day outside and remember, the weather can be changeable. We will be in the field digging up the preparations that were laid in the ground last fall and picking dandelions in the orchard.
There will be a potluck lunch.
If you are picking up preps, Bring Your Containers. The cost of the Preps is by donation to the Biodynamic Society and any donation $20 or more will receive a tax receipt.
Please confirm that you are attending by contacting Laurie at bdsocietyon@gmail.com