Fred Kirschenman and Jim Fullmer at Guelph Organic Conference January 26-29– The Biodynamic Farming and Gardening Society of Ontario works closely with the organizers of the Guelph Organic Conference every year to offer substantive opportunities for learning, discussion, and networking on current issues in the biodynamic community. At the 2017 conference, biodynamic presenters include Cory Eichman from Ontario, Fred Kirschenman from the US, and Jim Fullmer, the Co-Executive Director of Demeter USA.
Scheduled events include:
Saturday, January 28, 10am-3pm Meet & Greet – Guelph University Student Center Room UC332 [3rd floor]
Ø Bring your questions and curiosity, and meet BD Society and Demeter Canada board members and staff.
Ø Jim Fullmer from Demeter USA will talk about market opportunities in the US for Demeter-certified commodities.
Ø For Society membership & details, visit www.biodynamics.on.ca
Ø Free to attend, no conference registration is required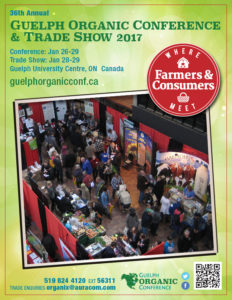 REGISTRATION FOR THE CONFERENCE IS REQUIRED FOR THE FOLLOWING SUNDAY WORKSHOPS.
REGISTRATION IS NOW OPEN; EARLY BIRD REGISTRATION ENDS JANUARY 10 5PM
http://www. http://guelphorganicconf.ca/register/
Sunday, January 29, 9-10:30am — Social threefolding & farming for the future – Cory Eichman
When we talk of Sustainable Agriculture, how far into the future are we usually thinking? How broad
a perspective does the sustainability model encompass? Agriculture touches on every aspect of life:
from the impact on the environment that we all share, to the web of economics that we are all involved
in, to the expression of personal desires and cultural traditions. This workshop will explore how the baby
steps we can take now can hold within them a vision for the next 3,000 years.
Sunday, 11am-12 noon — Demeter certification – Uli Hack & Jim Fullmer
This workshop will explore a number of areas related to Demeter certification.
Ø What sets apart Demeter certification from other programs?
Ø Must a grower become organic certified prior to Demeter certification?
Ø Typical procedures that take place during an inspection.
Ø Marketing opportunities
Sunday, 1:30-3pm — Rethinking agriculture: A BioDynamic perspective – Jim Fullmer & Fred Kirschenmann
How do we transition? Industrial agriculture is focused on maximum, efficient production for short-term
economic return. Regenerative, resilient food and farming methods are grounded in relationships and
shared value, focusing more on restoring regenerative life on earth. In this workshop the speakers will
explore the importance of transitioning away from industrial agriculture. Specifically, they will discuss
how a biodynamic model of agriculture can provide solutions.
Jim Fullmer is the co-executive director of Demeter USA, and oversees the organization's relationships with farmers, inspector training, and certification ( www.demeter-usa.org/).
Fred Kirschenmann worked for many years at the Leopold Center for Sustainable Agriculture at Iowa State University and still serves there as a Distinguished Fellow and a professor in the Department of Religion and Philosophy (https://www.leopold.iastate.edu/). He also continues to manage his family's 1,800-acre certified-organic farm in south-central North Dakota, and currently serves as the Board President for the Stone Barns Center for Food and Agriculture in upstate New York (www.stonebarnscenter.org).