A picnic with the Elementals
by Chris Wardzinski
Once again we find ourselves at the picturesque Crickhollow, this time for the annual Biodynamic Society family picnic. As everyone began arriving, conversations amongst the visitors quickly followed. Some reminisced the season passed: the hardships of the drought, the annual challenges of being nature's caretakers, and the many successes we all had in our own practices. Others looked toward the season's end, the coming harvests, and the time to rest and reflect. It was great to see everyone again and to share in each of our life's journeys.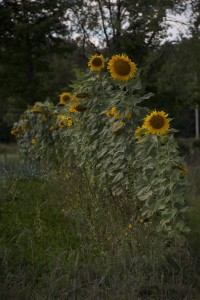 We began the day with a walk around the farm, exploring the many operations that go on at Crickhollow. The unfettered summer sun served as spotlight as we visited the chickens and ducks, explored the craftsmanship of the historic barn, and walked the beds of the market garden. A regimented tour quickly turned to impromptu discussions on the techniques used throughout the garden and their many pros and cons. With so many informative discussions to be had, it was easy to forget about the meal we had all come to share.
We convened under the stalwart maple trees for a fantastic potluck meal. The many creations of our guests were truly a delight to sample. With bellies full, we made our way into the tall grasses of a five-acre plot near the entrance to Crickhollow. Here Rosemary described her vision for what was to become of this piece of land and the ways in which the elementals all had a say in its outcome. By popular demand, our host became a lecturer once again as she provided a shortened version of her presentation on the elementals from the Guelph Organic Conference. Concluding her session, Rosemary led us in discussion and a group exercise as we all explored the many ways the elementals present themselves in our daily lives.
As the sun plunged towards the horizon, we were reminded that it was time to return to our own farms, gardens, even realms. Every day that plunge reminds us of the cyclical nature of our universe. Toiling in the summer heat eventually leads us to the cool calm of winter. It is there that we find the time to once again reflect on our place in this world and the purposefulness of our actions.